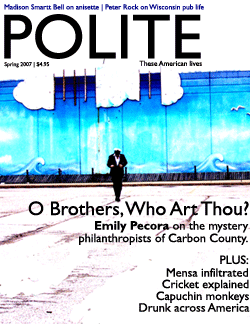 The Bilinsk at the Rootbeer Roundup
I was glad when my old friend the Bilinsk agreed to come into town to be one of the judges of the rootbeer roundup we were putting on. The Bilinsk, as you know, is one of my most famous friends, and definitely the most glamorous, so it was a real 'coup' to get him to come down. I called him in Los Angeles last week.

"Is this the Bilinsk?"

"Who the fuck is this?"

It was the Bilinsk, all right! After some pleading (on my part) and some breathy exhalations and strangled screams (on his part), he agreed to fly in. We had to pay his airfare, but it was alright, because he's the Bilinsk, and you do not expect to get such a famous guy to come into town on his own dime, even if you have known him for years.

The day of the rootbeer roundup came around eventually, and we had quite a crowd, probably because word had leaked out that the Bilinsk would be there (but possibly because of the general public's affinity for rootbeer, as it is quite a popular beverage in these parts). The other three judges -- Paco, Little Egypt, and Johnny Feets -- were friends of mine from way back, so naturally they also knew the Bilinsk, as we had all spent much time together in days gone by, when the Bilinsk was not nearly so famous as he is now. Johnny Feets had made a kind of collage for the Bilinsk as a kind of "welcome home" present, featuring photographs and artifacts from our mutual past.

"Do you think he will like it?" asks Johnny Feets.

Now, I am not one to presume to know how such a guy as the Bilinsk will take to a particular gift, but as I know that Johnny Feets has spent quite some time on the collage, I assure him that the Bilinsk will appreciate the gift.

Well, the starting time comes around, and the Bilinsk is not there. We wait a little bit longer, and still the Bilinsk does not show up. Now, my primary worry at this point is concern for the welfare of my good buddy the Bilinsk, as I know that airplane travel is quite a hazardous proposition in this day and age, and I am afraid that something terrible has happened. But the rest of the assembled crew is getting kind of restless, and wanting to start; but of course I will not start without my friend the Bilinsk, who has come all this way to help with our rootbeer roundup, so things are getting quite heated, indeed, when the door opens and who do you think is there but the Bilinsk!

With the Bilinsk is a young woman who I do not know, and as the Bilinsk supposedly came straight from the airport to the roundup it puzzles me as to how she got here, but then again any friend of the Bilinsk is a friend of mine, so I welcome them both. I notice that the woman's clothes look kind of skimpy and tattered, and this confuses me, because it is a surprisingly cold night, but I pride myself on being a good host, so I ask her if she wants a coat or some pants to shield her from the elements. She half-smiles and starts to speak, but the Bilinsk slaps her, hard, and she stops talking. I guess the Bilinsk knows best!

"Let's get this fucking show on the road," says the Bilinsk, sweeping into the house in his singular manner. Now, I am quite amenable to that, having waited quite some time for this rootbeer roundup to begin, but Johnny Feets wants to present the Bilinsk with his collage, and of course I would not stop Johnny Feets from giving the Bilinsk his gift.

"What the fuck is this, some kind of picture?" asks the Bilinsk, as he looks at the collage. Johnny Feets starts to explain that it's a precious memento from our mutual past, but the Bilinsk will have none of it, saying "This picture is for shit," as he heads towards the bathroom, the young woman following close behind. Now, Johnny Feets is kind of disappointed, but I explain to him how the Bilinsk probably has lots of pictures in his home in L.A., and doesn't need another one cluttering up his walls, and of course Johnny Feets understands.

But it does strike me that the Bilinsk seems kind of dazed and not his normal effervescent self, which is understandable given the rigors of traveling, especially on a modern jet plane. "Bilinsk, you seem kind of dazed," I call to him through the bathroom door. "Can I get you an Advil, or perhaps some hot water to calm your nerves?" All I hear in response is some loud moaning, and it strikes me that the Bilinsk is probably taking his duties as judge for the rootbeer roundup too seriously, and getting worried that he will not be able to measure up, and I feel bad for having brought this kind of stress on the Bilinsk, for if there's one thing that a guy like the Bilinsk does not need more of, it is stress.

After a few minutes, the door to the bathroom opens, and out comes the Bilinsk, by himself. "Let's make this fast; I got reservations at the Tip-Top Room in 20 minutes and three hookers waiting in the cab," says the Bilinsk, and we all laugh at the famous Bilinsk sense of humor. He stares at us, not understanding why we're laughing, and of course we all start laughing even harder, and I am glad that the Bilinsk is finally starting to act like his old effervescent self.

Having waited so long to taste all this rootbeer, we are all eager to get the roundup started, and so the judges take their places and we begin. The first rootbeer is called Uncle Grandpa's Old-Time Brew, and it comes in a miniature cracker barrel, and as it makes its way down the line of judges the general consensus is that it is a very good rootbeer, indeed, with a creamy head and a sweet sassafras aftertaste. The last judge is the Bilinsk, and as he takes a swig his face wrinkles up. "This rootbeer is for shit," declares the Bilinsk. Now the rest of the judges are puzzled, having enjoyed Uncle Grandpa's Old-Time Brew very much, but the Bilinsk is insistent, and so they defer to his judgment and eliminate it from competition.

The roundup goes on, and it becomes clear that the Bilinsk is a very demanding judge, as he does not seem to like any of the rootbeers. After the fifth rootbeer -- Cutter McGee's, from Panama City Beach -- the Bilinsk slams his fist down on the judging table. "All of this, all of this rootbeer -- it is for shit," says the Bilinsk in a tone of voice that brooks no argument.

Johnny Feets, who is perhaps still smarting over the Bilinsk's rejection of his collage, clears his throat and asks "Well, Bilinsk, what kind of rootbeer do you like?" The Bilinsk stares at Johnny Feets for about a minute, and Johnny Feets sinks down in his chair a little bit. "You want to see a rootbeer?" asks the Bilinsk. "This is a rootbeer," and with a flourish he pulls a bottle out of his inside coat pocket. The label features a picture of a grinning Bilinsk and the words 'Rot Beer For We' in small print near the bottom, possibly written in marker. He passes the rootbeer around, and we each have a drink. It tastes like neon, and shiny shirts, and a glamorous faraway world that me and Paco and Johnny Feets are totally unfamiliar with, and will never know. All the judges agree that this indeed was a rootbeer.

"Bilinsk, this rootbeer is great," I say.

"Nine dollars," says the Bilinsk.

I am confused for a second, but the Bilinsk speaks up again. "Nine dollars, motherfuckers." He was very insistent, so of course we pay it, because it was a delicious rootbeer, and also we do not want to offend the Bilinsk, who is already irritable enough. We didn't really see much point in going on with the rootbeer roundup after that, so we stopped and all went to Shakey's for some jalapeño poppers and onion rings. We try to ask the Bilinsk if he wants to come along, but he had already left. Little Egypt is sort of sad that the Bilinsk does not say goodbye, but I do not take offense, because the Bilinsk is a busy man, and I was just glad that he showed up at all. We do take his friend who he had left in the bathroom, though, who is a quiet girl, but a big fan of jalapeño poppers, just like us, so it works out alright.

It sure was good to see the Bilinsk again.
-Patterson Nickelby
All content © 2007, Polite and its contributors.